BRITANNICA LATINA: 2000 YEARS OF BRITISH LATIN
published by The History Press (October 2009)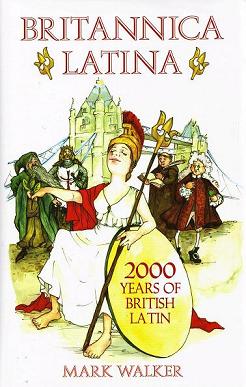 Presenting readable and enjoyable selections of Anglo-Latin from the Roman occupation to the 21st century, Britannica Latina follows the same user-friendly format and style as the author's previous "Latin for Everyday Life" books, Annus Horribilis and Annus Mirabilis.

Including stories from British history, tales of King Arthur and Merlin, plays and poetry from the Renaissance onwards, and the scientific discoveries of Newton, plus much more, this book is a remarkable collection of important Anglo-Latin literature, much of which has been made accessible to Latin students for the first time.

Each chapter includes historical and biographical background information and informative grammatical notes for every selection, making translation enjoyable and fun for all Latinists. Full English translations are given at the back of the book.

Selections include the Caesar's landing in Britain, the tale of Lady Godiva, the signing of the Magna Carta, St. Columba vs. The Loch Ness Monster, Walter Map on Vampires, George Ruggles' comedy Ignoramus, William Harvey on the Circulation of the Blood and poetry from Swift, Bourne and Landor. The final chapter features examples of modern Anglo-Latin poetry by contemporary authors.
Contents:
Foreword
Timeline of events, authors and publications
Chapter 1: The Romans in Britain
Chapter 2: British History
Chapter 3: Arthur and Merlin
Chapter 4: Saints and Martyrs
Chapter 5: From Superstition to Science
Chapter 6: Renaissance Poets and Playwrights
Chapter 7: The Age of Enlightenment
Chapter 8: Augustan Poets
Chapter 9: Anglo-Latin Today
English Translations
Appendix: Matters Metrical
Index
---
Back to Pineapple Publications